Home
Talk

0
568pages on
this wiki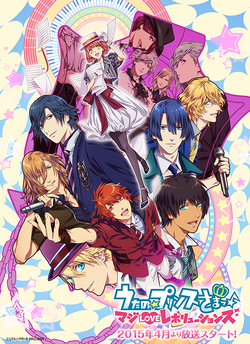 Smartphone app UTA☆PRI ISLAND is once again available on the iOS!
Maji LOVE LIVE 4th STAGE will be held on January 31st and February 1st at the Yokohama Arena!
Maji LOVE Revolutions to air April 2015. Advance screening events will be held on March 27, 28, and 29.
Nanami Haruka
七海春歌
Ittoki Otoya
一十木音也
Hijirikawa Masato
聖川真斗
Shinomiya Natsuki
四ノ宮那月
Ichinose Tokiya
一ノ瀬トキヤ
Jinguji Ren
神宮寺レン
Kurusu Syo
来栖翔
Aijima Cecil
愛島セシル
Kotobuki Reiji
寿嶺二
Kurosaki Ranmaru
黒崎蘭丸
Mikaze Ai
美風藍
Camus
カミュ
Tsukimiya Ringo
月宮林檎
Hyuga Ryuya
日向龍也
Shibuya Tomochika
渋谷友千香
Shining Saotome
シャイニング早乙女
Ootori Eiichi
鳳瑛一
Sumeragi Kira
皇綺羅
Mikado Nagi
帝ナギ
Raging Ootori
レイジング鳳
Kurusu Kaoru
来栖薫
Audition Song CD

Happy Love Song CD

AA & SS

Duet Drama CD

Maji LOVE 1000% Idol Song CD

Maji LOVE 2000% Idol Song CD

Duet CD

All Star Idol Song

Unit Drama CD

New Series & Quartet Idol Song

Shuffle Unit CD

[last update]
January 19, 2015
Main Page Overhaul
[+] New Music Section
[+] New Websites Section
[+] New Events Section
[+] New Anime Section
Videos are temporarily unavailable
and are currently being replaced.
Templates are being overhauled.