Monthly Idol's Star (月刊アイドルの星
Gekkan Aidoru no Hoshi
) is a popular monthly entertainment magazine in the Uta no Prince-sama anime. The magazine features and reviews idols and the idols' current projects. The issue seen in the anime features Hijirikawa Masato's musical, Kurusu Syo's Prince of Fighting 2-Hour Special, and QUARTET NIGHT's Poison Kiss.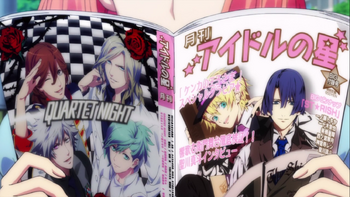 Ad blocker interference detected!
Wikia is a free-to-use site that makes money from advertising. We have a modified experience for viewers using ad blockers

Wikia is not accessible if you've made further modifications. Remove the custom ad blocker rule(s) and the page will load as expected.