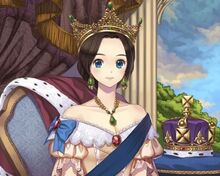 Aijima Kotomi is the birth mother of both Otoya Ittoki and Cecil Aijima. She is also the former lover of both Shining Saotome and the King of Agnapolis. She is only ever seen in the memorials.
Prior to Otoya's birth, Kotomi was the lover of Shining Saotome and was also one of his composers. She composed the song, "Ai yue ni..." with which Saotome had debuted with. About year after Otoya was born (fifteen years prior to Original/Repeat) Kotomi was involved in an airplane crash, which led to many proclaiming her as deceased. In actuality, Kotomi had only lost her memories and had somehow arrived at Agnapolis where she later became the lover of the king and birthed Cecil.
She currently resides in Japan still without any memories of her life prior to Agnapolis.