Ren Jinguji (神宮寺 レン, Jinguuji Ren) is a student of Saotome Gakuen, sorted into S Class. He is voiced by Junichi Suwabe (諏訪部 順一, Suwabe Junichi).
Appearance
Edit
Ren is a tall, young man with strawberry blonde colored hair which reaches his shoulders, and his bangs go across his right eye. He has cool light blue eyes and usually wears his top two buttons down revealing a little of his chest. His way of clothing is usually loose and playful, giving him the flirty appearance. He has fawn tanned skin, and also one noticeable pierced ear, similar to that of Kurusu Syo's.
His child appearance had shorter hair and his ear was not pierced.
Personality
Edit
Ông is one người đào hoa, urous and vô tư. Ren is known as much nổi tiếng in the number of phụ nữ and never thất bại to quyến rũ them nói chuyện ngọt ngào of mình. Tại lần Ren be cho thấy be ích kỷ but very nói mê khì nói to âm nhạc. Ông also cho biệt hiệu cho bạn cùng ban nhạc của mình. Ngoài ra, ông Dương as sống nội tâm in ý nghĩa that ông have and hold these khó khăn of mình với chính mình, until Haruka cho anh cơ hội to nói chuyện one cách cởi mở. Khi Ren còn nhỏ, anh trai of ông Seiichirou already have many cuộc họp mà ông couldnt chơi
When Ren was little, his brother Seiichirou had so many meetings that he couldn't play. But at a party he met Masato and that'show his burning passion was on fire. Ren is the youngest child in the family, and his older brother forced him to go to Saotome Academy to become an idol and serve as the Jinguji family's tool for publicity. Ren indeed went to the academy, but during his stay he had no passion for music whatsoever. When he was still a child, Ren lost his mother due to an accident. He was only able to see his mother's face through recorded video tapes of her performances, and this revealed that Ren's mother was a famous idol. One day when Ren was watching his mother's tapes, his father came in and frantically discarded all of them, stating that he thought he threw away everything of her's. This caused Ren to believe that his father hated his mother. Grieving during his childhood with the loss of his mother, Ren would often go to the park and listen to his mother's singing through his mp3 player. The song he liked to listen to in particular was the song his mother hummed when she was carrying Ren during her pregnancy. He meets Nanami Haruka at Saotome Academy's gate entrance for the first time. It was when he saw her help a lost little girl find her mother at the park that he took interest in her and gave her the nickname "Little Lamb".
See here: Jinguji Ren/Game.
See here: Jinguji Ren/Anime.
See here: Jinguji Ren/Manga.
Song Chronology
Edit
Released on December 29, 2009

Released on February 24, 2010

Released on June 30, 2010

Released on October 27, 2010

Released on February 09, 2011

Released on February 02, 2011

Released on July 20, 2011

Released on August 10, 2011

Released on November 30, 2011

Released on September 25, 2012

Released on December 26, 2012

Released on April 24, 2013

Released on May 22, 2013

Released on February 26, 2014

Released on April 8, 2015

Released on May 8, 2015

Relationships
Edit
Ren first sees Nanami helping a lost little girl find her mother. It was by coincidence that Ren me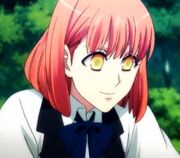 ets her again during the academy's entrance exams. He is surprisingly very fond and affectionate towards Nanami compared to other girls and even gave her the nickname "Little Lamb" and "My Lady." As the story progressed, Ren opened his heart to his love for music again when Nanami gathered the lyrics he ripped on top of the school roof. He claims that he is in "debt" to Nanami and will do anything to make her happy. Believably, Ren has shown a whole new kind of "affection" towards Nanami, and it's no longer the kind that he usually shows to any girl.
Ren first meets Masato at a social meeting back when they were kids. He claimed that the party w
as boring and invited Masato to play with him at the lake. It was again they meet each other at Saotome Academy with the same goal in mind. in the early semester, Masato hated Ren at the fact he didn't his love for music seriously and ended up punching him. It was later on that Masato forgave him and they continued their friendly riavlry. The rivaly further intensified when Masato finds out that Ren also decides to choose
Nanami Haruka
as his graduation partner. But their rivalry between them did not end after their debut.
Game Appearance
Edit
See here: Jinguji Ren/Gallery.
His given name, Ren (レン), may refer to a Japanese character for love (恋), while normally read as koi, has an on'yomi reading of ren.
He harbors a dislike for chocolates because of an incident in his childhood involving said sweet.
He is very interested in foreign languages.
He knows Italian.
He is a fan of Loveril Fantasy.
He is very similar to Asahina Kaname from Brothers Conflict, and has the same voice actor, Suwabe Junichi, despite having differences