Raging is Eiichi's father and the President of Raging Entertainment. Raging appears to be one of the few individuals who Eiichi shows any respect to, and appears to be the only one who can talk Eiichi down.
Eiji is Eiichi's younger brother and fellow HEAVENS member. Eiji has a lot of respect for his older brother, and while it appears that Eiichi can get annoyed with him on occasion, he cares for Eiji in his own way.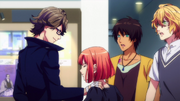 Eiichi first met Haruka when HEAVENS faced off against STARISH in an all or nothing battle, and was instantly impressed with her talent for songwriting. He even demanded that she become HEAVENS' songwriter the moment they met, and stated very clearly that if HEAVENS won they would have her become their songwriter for their wish. He, along with the rest of HEAVENS, tried to take her away from STARISH forcefully during the battle, and Eiichi was nothing short of stunned when Haruka firmly declared that only STARISH would could sing her song the best, and that she would never be theirs. This appears to have been a first for Eiichi, as he said himself, their had never been something that he could not have before.
As of Season 4, with the new seven-member-HEAVENS, it is unclear if Eiichi still intends to make Haruka their composer.
Ad blocker interference detected!
Wikia is a free-to-use site that makes money from advertising. We have a modified experience for viewers using ad blockers

Wikia is not accessible if you've made further modifications. Remove the custom ad blocker rule(s) and the page will load as expected.