The first CD from the Uta no☆Prince-sama♪ Audition Song series, featuring Ittoki Otoya and Ichinose Tokiya, voiced by Terashima Takuma and Miyano Mamoru, respectively. The CD was released on November 26, 2009.
Track List
Edit
TRUST☆MY DREAM
BELIEVE☆MY VOICE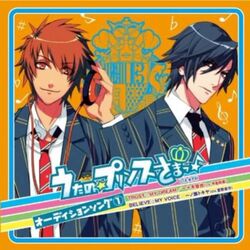 TRUST☆MY DREAM (off vocal)
BELIEVE☆MY VOICE (off vocal)
78th (Oricon Weekly Rankings)
33rd (Oricon Daily Rankings)
16 (Number of Appearances on Oricon)
97th (CDTV)
Ranking Source[1]
References
Edit
Ad blocker interference detected!
Wikia is a free-to-use site that makes money from advertising. We have a modified experience for viewers using ad blockers

Wikia is not accessible if you've made further modifications. Remove the custom ad blocker rule(s) and the page will load as expected.