Season 1
Cecil had always appeared to Nanami as a black cat,which Nanami named Kuppuru. When Nanami went to Saotome Acadamy's summer vacation trip, Cecil appeared to Nanami as Kuppuru and made her chase after him. Cecil led her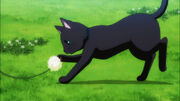 into a forest, and into some ruins. He then appeared to her in his human form, saying that he has been waiting for Nanami. He explains that he is the prince of Agnapolis and that he and Nanami have met before in a past further away then the light of a star. Fireflies then begin to gather around them, and Cecil starts to sing.
| | |
| --- | --- |
| | This article lacks anime information. You can help Uta no Prince-sama Wiki by expanding it. |
Season 2
Episode One
Cecil first appeared to Nanami in his human form when she was dreaming. Taking her hand and kissing it, he told her "I am pleased to have met you again, my beloved princess..." When Nanami thanked him for helping her with STARISH, Cecil said that he should be the one thanking her, because the songs she made had saved him. He continues, saying that he had been waiting for this day and that he has been wanting to touch Haruka. He then leans in to kiss her, and once he did Haruka woke up from her dream. The next day, Cecil was spotted by Haruka singing in a tree. Cecil caught Nanami when she tripped while coming towards him. When asked if this was another dream, he responded saying it was not a dream and he will always be by her side from that day on. He kisses Haruka's hand,(much to the disaproval of STARISH) and again states like he did in the dream that he has been waiting to touch her for a long time. When leaning in to kiss her, the members of STARISH quickly dashed over and yanked him off of Haruka. When Shinomiya Natsuki hosted a welcoming party for Cecil joining the Master Course the members of STARISH were cold and disinterested. When Natsuki started introducing himself, Cecil surprised him by already knowing his name. Cecil began describing Natsuki's hobby (cooking) and saying that he likes tea and cookies. Cecil says he knows this by looking into Natsuki's eyes. He tells Natsuki that his heart is warm and kind,like a sunny spot. Cecil continues, saying that his warmth heals the hearts of those around him and that one day, the darkness he keeps locked away in his heart will disappear. When Ittoki Otoya asks how he knows so much about Natsuki, Cecil said he knew a lot about Ittoki too. Cecil said that Ittoki treasured the smiles of the people around him more than anything else and that Ittoki's songs will continue to evolve. Cecil continued onto Syo Kurusu, saying that although his body is small, he is very athletic and that the contrast between his cute looks and masculine personality is his appeal. Cecil also includes that Syo's violent temperment causes conflict with others. Cecil states that Hijirikawa Masato appears cool,calm, and collected, but he hides a massive feeling on the verge of exploding withing himself. When Cecil moves on to Ichinose Tokiya, he says that he is 'moving towards the next stage'. Cecil tells Jinguji Ren that soon the chains in his heart will disappear and he will be filled with a deep happiness. When again telling Nanami that he loves her, he is interrupted by Camus, who told him not to speak so boldly of love in the Master Course.
Episode Two
Camus introduces himself to Cecil as his senior, but Cecil said he has no need for a senior, for he can sing better than even the members of STARISH. Cecil, as well as the members of STARISH, were taken outside by Camus to have a competition and test their skills. They had to use the president's giant training cards and had to find the right character out of all the cards laid out on the field. Cecil, stealing the first card before Syo could get to it, stated that his hiragana was perfect. As the competition continued, Cecil was winning single-handedly until it was pointed out that Cecil had all the wrong cards. Cecil was disappointed, saying he was confident in his japanese. He then stood back up, saying that he would get the right cards this time. Cecil spotted the next card hanging from a tree and began to climb. He was about to grab it when Syo jumped onto a tree branch and knocked Cecil off balance. Cecil started panicking when he saw water underneath him, and he desperately tried to recover his balance. Failing, he fell into the pool of water and splashed around, thinking he was going to drown. When he stood up though, the water was just under his knee's length. Hurt that no one tried to save, him he crawled out of the water but panicked once again after seeing a fish flopping around next to him. Cecil ran away, yelling that he's 'had enough' of what's been going on. Ai commented that Cecil was originally from a desert, so he is not fond of fish or water. Later on, they wonder where Cecil go and Haruka find out Cecil taking a nap and give compliment on idol fundamental and Camus supposed to be his count. As a result, Camus angrily take Cecil on his room and going to give him some of his though. On losing to Camus game, Cecil meet Haruka and been told that love is forbidden for idol, he also admit sadly on showing his bad side to Haruka. Even though, Haruka ask him for his interest become idol Cecil response on singing is same as breathing, he also reveal and wish to sing Haruka song. "That's it all".
Episode Three
Cecil come and meet with the member of starish, he also learn idol do a lot of work like Ichinose who's job on commercial and drama, Ren do a modeling and ext. Later on, Syo start to highlight idol job of idol from movies to theater and talk on showing talent. Saotome appeared then encourage them to work harder inside their job for utapri award. Cecil can be seen taking a lot of thoughts, on everyone expression and remain silent which make Haruka worried a bit on him. Cecil learn from Camus the important of idol not in skill but how they shine, though show off his glowing staff. Cecil looks more troubled when Camus said he didn't have to care on uta pri award, also ask on the assignment that has been given which make Cecil response as 'no'. Tomorrow Cecil come with Shinomiya to see how's Syo shooting. Cecil amazed at the place for filming, this expression suprised Syo. Shinomiya explained on why Cecil come together with him, which make Syo hate for Cecil more and question his rejection becoming idol. Cecil tease Syo for a prince will never go back on his word, and as result Syo more angered on him. The director calling for extra people and Cecil and Shinomiya left and tease him again and say "Do your best". After finish shooting, Syo still not satisfied with the result and ask them to leave because both of them distract his concentration. Cecil then ask Shinomiya to go since nothing they can do to convince Syo, for now. Tommorow, he (Cecil) with Shinomiya watching Syo able to perform better than yesterday, and put appreciation expression on everyone congratulating Syo work.
Episode Four
On early Morning Cecil complaint on how early Camus wake up which make him angry and ask Cecil to wake up more early on morning and watch tv more in order to learn about idol charm others. This condition make Cecil, feel threaten a bit and when Camus also add for everyday report make his expression of speechless. Camus then leave and Cecil start to spot Haruka and decide to come in her room. Later on, he state that Camus always getting mad at him which make Haruka question Cecil condition. On giving response, Cecil collapse and feel relaxed on her bed. Cecil then take Haruka hand and tell on how he want to spend time with her, and about to kiss her but stopped when seeing on the flower that Haruka kept as a gift (season one episode eight). Haruka Reveal that flower has important role on make starish first debut, which make Cecil sadly response on how Haruka love starish. Cecil jealously questioning on what so great about them, and Haruka state how she see them sparkle a lot and make her want to watch starish forever. Cecil still didn't get it though he ask what that suppose to mean and remember Camus word on "idol must charm people", realizing this he then sadly saying that Haruka is their prisoner which make Haruka just surprised and froze. Later on, when Cecil passed by and seeing starish on Supporting Masato acting. Ittoki surprised and ask Cecil to be a spectator for Ichinose and Masato acting skill. Even though not giving proper response Ittoki and Shinomiya still ask him to sit beside Syo. Still question what is it about Syo ask him to quiet, no choice he then just watch. Cecil and other Starish member (except Masato and Ichinose) watch and amazed completely but, learn that Masato can't embrace Ichinose at all. Even though, their acting is perfect Cecil then ask why Ichinose take the girl role which make Ichinose angrily answer for no woman in the dorm, without thinking he (Cecil) state they can ask Haruka instead and surprised almost all starish member. Masato then response for don't want to troubled Haruka anymore, which make Cecil meet him later at night time and question his audition. Later on, he ask for the reason Masato becoming idol to satisfy his curiosity. Masato then tell his past on how he love performing arts but keep it hidden until he meet someone (Haruka) singing and encourage the children on street (season 1 episode 3). Cecil then said how Masato must be in love with that woman and start to encourage him to put his passion into his audition and this will lead to success "which surprise Masato". Cecil then continue on saying imagine the actor as the person he love in order to embrace her easily.Surprised with this Masato quickly say 'no' which make Cecil ask for reason, then stating acting isn't real. Cecil had no idea that his conversation able to make Masato had more insight for acting then give him a thank you, before leaving Cecil question him but got no response. On the other day, Cecil listen and found out the woman is Haruka which make Masato shock, not finish there Cecil  then question for not telling his love her which make Masato face blush and become as red as exploding volcano. Cecil still ask on why not confess his love, when Masato said no need to response this make Cecil start to point out on Idol Ban for experience a romantic relationship (Love). However Masato state he want to keep his feeling hidden because it's important which make Cecil asking him again for not telling Haruka for she is next to him. Cecil then Learn that Masato connected with Haruka through "Bond of music" by singing her song, and that is more than enough and as a result this make Cecil speechless and only remember on Haruka word " They Sparkle" - Connected to Haruka.. through bond of music...
Episode Five
At first Cecil seen together with Ittoki and Camus at XYZ TV. At there, Ittoki question why both of them will perform together, however Camus only state that he only following order from Saotome. Although he also said can't understand why putting amateur like Cecil on this variety show. This word make Cecil become silent, seeing this Ittoki cheer up Cecil by saying "Let's make it a blast". Still don't give any response Ittoki put it on simpler way 'just have fun'. Cecil wearing a green cat costume and has a child expression, their first task is doing impression. This make Ittoki worried and try to defend Cecil, though Cecil blankly said impression thanks to Ittoki idea of saying anything he like, later on, Cecil smile and response to Ittoki worried reaction. Ittoki surprised on how quick Cecil reaction then, Cecil start to act like Saotome which make him feel more tense but gladly bring a lot laugh on viewers (Completely Modeling Saotome reaction when viewers guess correctly and words that Saotome will use when see starish). At the end of variety show, Cecil seems to put more though and surprise on what he capable of. After that, they went out and Ittoki give him compliment on he never imagine or experienced this kind of fun in recording, though Camus take that as a credit for guiding Cecil abilities. Cecil then leave Ittoki since the director called him but before that, he take step back to Ittoki and said (good work today- Ittoki) also humming on his own. Back on master course mansion, WIth the rest member of starish except Ittoki and Ichinose Cecil sit silently and listening on Haruka and starish words on Ittoki situations. Cecil suddenly appeared and happy that the ghost he set must scared both of them, later on, he also said hope tommorow come soon for 'customer' and 'fun'. Tommorow though no one come due to flea market, but thanks to Ittoki song customer start to come and prasing Ittoki talent 'Cecil only smile'.
Episode Six
Cecil join breakfast with starish also hearing Ren will participating in 'japan boys collection', after that, Cecil watch and amazed how's his work with Ittoki when become Saotome as impression. Wonder how he can feel that way Cecil walk outside and seeing Ren and have a chat with him. Ren give compliment on his show quite funny which make Cecil blush then pressure him asking on not interested become idol, silent for a while Cecil question the reason for Ren become idol. Ren response that his family recomended him which suprised Cecil (my brother told me to do it). On the other hand, Ren also tell Cecil it doesn't matter how idol begin what it's matter, as long as you're serious about it now (smile at cecil which make him suprise in speechless way). Cecil compliment on Ren hard work which suprise Haruka and Tomochika, while other girls seeing him super 'hot'. However, before Haruka able to introduce Tomochika, suprisingly he already know and stated Tomochika as Haruka former roommate's which make Tomochika fiercely warn him not doing anything weird on Haruka. But Cecil just smile and open his music box showing the disc he hear 'for Jinguji Ren- from Haruka', this make Tomochika wonder then Haruka mention he give them all the disc of everyone song, though not finish yet for Cecil song. Cecil then response that no worries because he will wait and listen to six disc while Haruka composing for him- smile! (Tomochika suprised- that's enough for six people). Cecil then watch together with Haruka  and amazed on 'japan boys collection', however, during Ren turn the light went out. Haruka quickly ask the disc with Ren name on it and run somewhere else (I will light your heart with my song). While still in the mist of confuse with crowd, He (Cecil) start to hear Ren song which make the room filled with everyone happiness inside their hearts and take form of lighted candle (Amazing).
Episode Seven
Episode Eight
Episode Nine
Episode Ten
Episode Eleven
Episode Twelve
Episode Thirteen
Ad blocker interference detected!
Wikia is a free-to-use site that makes money from advertising. We have a modified experience for viewers using ad blockers

Wikia is not accessible if you've made further modifications. Remove the custom ad blocker rule(s) and the page will load as expected.